Digital Transformation
Digitalize business operations and customer experiences
As your partner, we leverage digital technologies to transform your business processes and customer interactions into the digital realm, catering to connected customers in the digital age.
Want to go digital?
Need a trusted technology partner to build your digital-first strategy?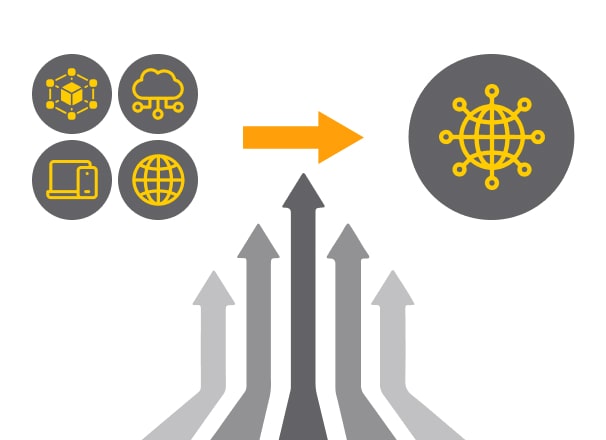 Offerings
Enabling digital connectivity to transform businesses using cutting-edge technologies.
Defining Transformation
Digital Strategy
We enable enterprises to leverage digital disruption, driving digital-first transformations and delivering exceptional customer experiences and operations.
We collaborate with you to develop digital strategies for your organization, maximizing the potential of digital technologies through the following actions:
Analyzing your current biz model
Understanding your biz structure and operations
Understanding your biz culture, people, and processes
Identifying your biz's digital needs
Uncovering your digital DNA
Creating an internal DX strategy for operational improvements
Designing an external DX strategy for enhanced customer experiences
Developing digital technologies strategy
Creating roadmap for digital shift
Connected Customers.
Experience DX
Our expertise lies in delivering exceptional customer experiences and fostering customer engagement to help businesses achieve connected customer objectives.
To create an effective digital customer experience on your customer OMNI channels, we employ the following process:
Comprehending customer requirements
Understanding customer service and journeys
Design customer service solutions
Craft customer journey experiences
Design seamless digital customer experience
Develop comprehensive digital omni-channel strategy
Utilize customer analytics to gain insights
Implemen digital marketing strategies
Connected Operations.
Operation DX
Maximize operational efficiency and enable connected operations for businesses through our value chain optimization solutions.
To automate and digitalize your business operations, we adhere to the following process:
Comprehending existing processes
Process modeling
Process digitalization
Process Insights
AI/ML Enablement
Our DATE2X Approach
Digital Transformation redefines your business.
Our DATEX approach ensures that every aspect of business digitized with a purpose to create a connected organization.
The DX pipeline bridges digital vision with customer acceptance, identifying valuable digital solutions in disruptive environments.
Stage 1: Digitalize
Digitalization involves assessing current customer services, experiences, and internal processes, and leveraging appropriate technologies to collect data and transform them using modern digital tools.
Stage 2: Analyze
The process involves gathering data from digital platforms, analyzing it, and generating actionable insights for AI/ML integration into business processes.
Stage 3: Transform
The data insights are translated into innovative digital products and processes through transformation.
Stage 4: Experience & Engagement
Enhance customer experiences and engagement by leveraging new digital products and processes at various customer touchpoints.
Success Stories
Desired Results Delivered.
50+ deliverables across industries. Clients who build their products with us recently.